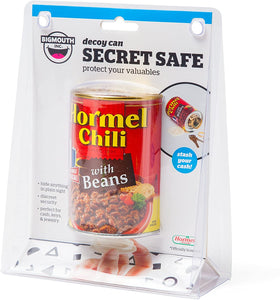 Hormel Chili Can Safe
PERFECTLY SAFE: BigMouth's safes specialize in letting you hide important stashes in the least obvious spot: your kitchen cupboards! This unsuspecting can is made using the exact dimensions and label of a standard Hormel Chili can.
GREAT SIZE: This product is 3" x 3" x 4.5" which is true-to-size of the original product, yet still large enough to hold money, jewelry, gift cards, regular-sized wallets, and even important documents!